Reading a movie review and wondering if it's available on Netflix, Amazon, Hulu, iTunes or anywhere else online? Thousands of episodes from various shows and seasons, mixed among random clips and videos, can be found on different websites. With the massive amount of choices online, finding a show or an episode of your favorite season to watch online can be pain. Clicker, a Chrome extension, is a complete guide to internet television that makes it simple for you to find the right show at the right place. Clicker basically lets you find movie information, episodes and videos that are available online on various popular websites, such as Hulu, Netflix, Amazon, iTunes and more. It integrates all these sources into one slick interface, so you can easily discover what's available to watch online.
After the extension has been installed, you can click the button in the toolbar to start a search. Simply enter a name of a show, season, episode, and Clicker will instantly display results in the pop-up, along with the number of episodes.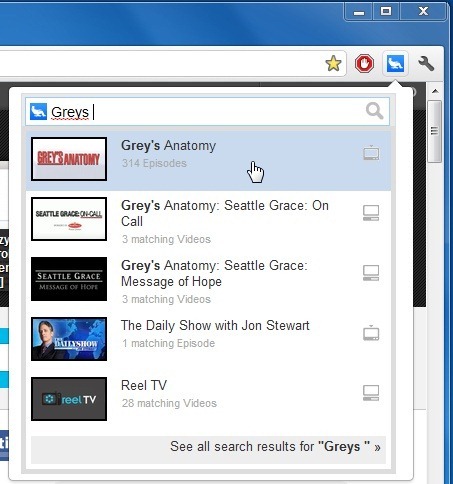 Clicking a result will bring you to Clicker website, where you can watch, share or add a show to your queue to watch later. At the top of the webpage, you will find a description for each show, along with options to filter results by Source and Seasons. In addition to that, Clicker lets you discover new shows by displaying a list of Related Shows to the right side of the page.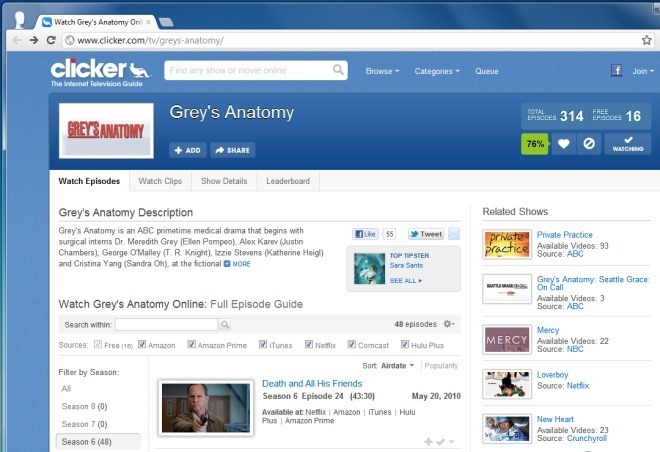 Clicker lets you find shows/episodes on various popular websites, organizes them for you, and lets you discover new ones. The extension greatly speed things up for you and enhances your video watching experience in a unique way.
Install Clicker For Google Chrome