Stash is a Chrome extension that makes it easier to save or stow away (close and save) all your open tabs or windows, and restore them all at once from within its pop-up menu. This can prove to be particularly useful when you have a large number of tabs or windows open and want to instantly reduce the load/clutter without losing articles or important webpages that you might want to go through later.  While most other similar extensions delete saved tabs after they are opened, Stash can be set to  keep them saved. The extension is fairly customizable too; it allows you to set hotkeys for stashing the all or only the current tab from within its Options menu.
When you've got, say, twenty or more tabs open that you would like to save for later viewing, simply click the Stash button in the extension's pop-up menu.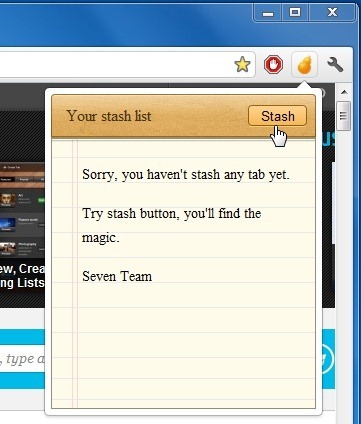 By default, clicking on Stash will close all of your opened tabs (except pinned ones) and save them as a separate list. For each list, you will be able to view the total number of contained tabs and favicons of the first few. Click the arrow at the right of the list to instantly open all saved tabs in a new window. These lists can be locked, so even after you've opened a set of tabs, a record of them will be retained.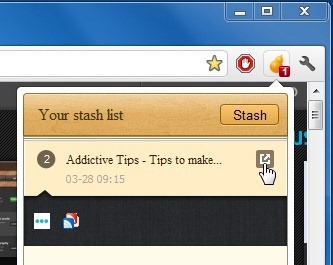 The extension's Options menu allows you to set shortcuts for Stash all tabs and Stash current tab actions. In addition, you can enable the aforementioned Default lock record option to retain a record of saved tabs, and the self-explanatory Stash pinned tab, Prevent auto close after stash and Always recover on new window options.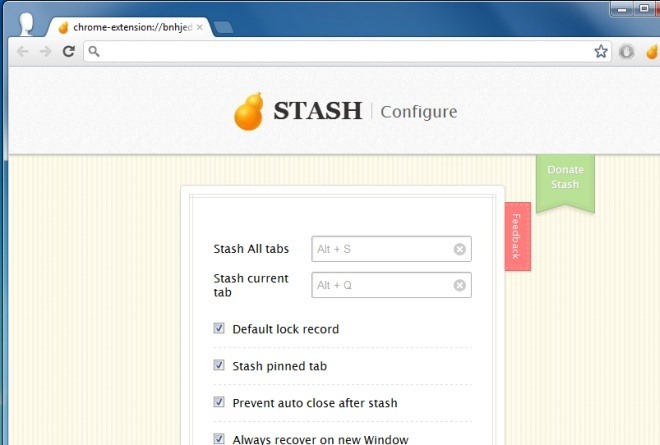 Stash isn't just good for saving articles or any other content that you would like to browse later, it is a great solution for cluttered bookmark bars. The link provided below will take you to its download page.
Install Stash For Google Chrome